Abstract
Introduction
Ever since the beginning of 2020, the world economy has been shocked by a new form of coronavirus termed as Novel Coronavirus Pneumonia (NCP) or COVID-19 [1]. COVID-19 has affected the socio-economic conditions throughout the world, especially in the case of developing economies and poverty. Poor households and households with low socio-economic conditions are suffering the most because of the pandemic. There seems a disparity in the impacts of COVID-19 at household levels due to differences in the socio-economic indicators of the households. Therefore, it is necessary to study the effects of external economic shocks on different households and the response of the households to such shocks. The economic factors may provide a better understanding of the differences in the factors and relevant policy implications for households.
The impacts of COVID-19 are diverse and spread across different sectors and regions. According to estimates of Sumner et al [2]. COVID-19 will impact the poor mostly in the regions of South Asia, Sub-Saharan Africa, and East Asia. Among Asian nations, China was also affected by the outbreak and faced various economic downturns in the first two quarters with lower production and growth rate. According to the national bureau of statistics of China, the income and consumption trends varied across rural and urban areas. Although the per capita disposable income of the rural households in the poverty-stricken areas showed a nominal increase of 2.7%, the real growth rate had decreased by 3.0% after measuring for price factors influence. In terms of the sources of income, including wages, salaries, and business, there is a slight increase in the nominal growth while net transfer income increases greatly by 9.2% due to the provision of the government. The net income from property declined by 0.5% in the first quarter as a result of the shock [3].Table 1shows the income trends.

Table 1.Income of rural residents in poor areas in the first quarter of 2020.
Similarly,Fig 1A and 1B) shows the difference in the per capita disposable income of the Chinese residents in the first quarter of 2020 compared to the first quarter of 2019. The downward sloping lines clearly depict the decline in the median growth rates. Although there is a slight increase in the absolute and nominal value 8,561 Yuan, which shows an increase of 0.8% as compared to 2019; however, in terms of real value after adjusting for price factors, the income has declined by 3.9%, which can be attributed to the effects of COVID-19 on the households. For rural households, the actual decrease was 4.7%, which is higher than the urban areas due to the socio-economic status (SES) of the households in the rural areas.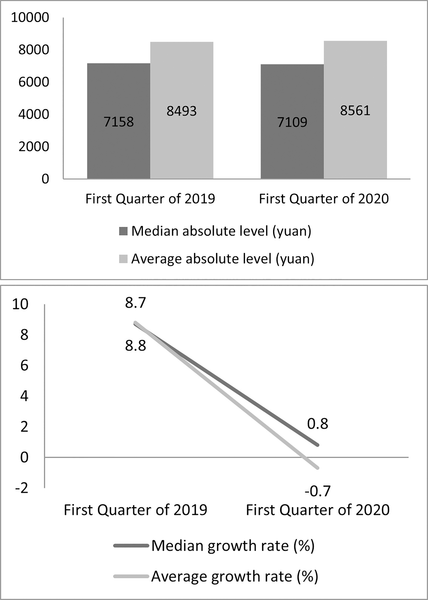 (A) Median & Absolute Level of income; (B) Median and average growth rate of income. (Source 2 NBS China [4]).